OlaTee African Cafe & Lounge is unique to The Woodland and Spring, Texas.
The Cafe features 3 venues in one (a concept called 'Multi-Branding'): A Victoria Island Lounge, Cosmopolitan Bar, and Full-Service Dining. This concept offers customers variety, offering multiple dining and entertainment options within a single establishment. The spatial and menu divisions will broaden our appeal and provide our customers with a different experience on each visit.
The atmosphere caters to a young but mature adult crowd. This is a family dining establishment.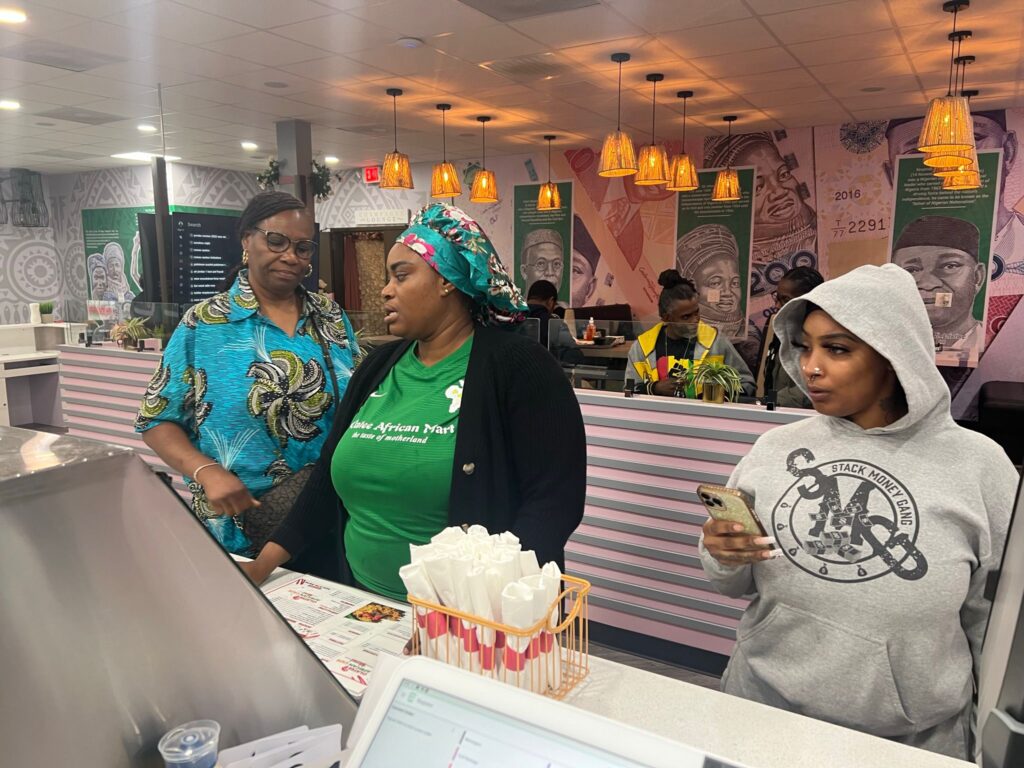 Our management team has over 10 years combined experience in food, Café, and Catering Company Ownership
The Cafe will start out as an LLC, owned by its founders, Olasunkanmi Thanni-Wright and Temitayo Thanni-Wright will function as the General Manager and Executive Chef. Mr. and Mrs. Thanni-Wright have a long-standing professional relationship in the Cafe industry, stemming back to Ibadan, Nigeria. Mrs. Thanni-Wright is an accomplished Restaurateur, having owned several full-service Cafes. We currently own OlaTee African Mart (www.olateeafricanmart.com), and to top it all we are husband and wife.
OlaTee African is focused on servicing The Woodlands is growing and in demand for an ethnic eating experience. For lack of a better term, we are launching a 'multi-ethnic' cuisine Cafe – a Cafe concept that responds to The Woodland's need for selection and choice. OlaTee African Cafe is a complimentary mingling of international cuisine on a single menu. The Woodlands and Spring demographics fit this concept perfectly because according Niche, The Woodland is the best city to live in 2022. #1 in Best Cities to Live in America
With the primary objective of delivering nutritious original African meals, we opened OlaTee African Mart and Café in 2020 and we provide excellent customer service, as well as delicious, nutritional meals made with a range of African spices and herbs which is our number one priority. OlaTee African Mart and Café is a huge family business.
With this in mind, we take pride in infusing 'nourishment' into each and every dish we serve. Signature Jollof Rice infused with Red Bell Pepper, Habanero, Bay Leaves and Roman Tomato is on the menu. We also have palatable Soups such as Egusi, Bitter Leaves, Okro, Vegetable, Afang, Edikiakong, Oha, Ogbono (Bush Mango Seed) and Banga are served with a variety of fufu.
Mouthwatering Moin-Moin, Stewed Honey Beans, Goat head (Nkwobi), and Spicy Smoked Grilled fish with a special hot sauce prepared in-house. Ewa Agonyin(Sweet beans), Ayamase(Designer Stew), Ewa Agoyin Sauce, our delicious Gizdodo and Ofada Sauce and tantalizing Aboki Suya.
OlaTee African Mart/Café tries to provide the best dining experience possible for our clients. We also cater to many types of events, including Weddings, Cooperate, Birthdays, and baby showers/dedications, among others. To create memories, we can go across the United States and the rest of the world.
OlaTee African will be an inspiring Cafe, combining an eclectic atmosphere with excellent and interesting food. The mission is to have not only a great food selection, but also efficient and superior service – customer satisfaction is our paramount objective. OlaTee African will be the Cafe of choice for a mature and adult crowd, couples and singles, young and old, male or female.
Employee welfare, participation, and training are equally important to our success. Everyone is treated fairly and with the utmost respect. Our employees will feel a part of the success of OlaTee African Cafe & Lounge.
Our concept combines variety, ambiance, entertainment and a superior staff to create a sense of 'place' in order to reach our goal of overall value in the dining/entertainment experience.
Every Monday, Tuesday and Wednesday, we offer couples and families that order products in our bakery a complimentary box of bagels
Every Monday, Tuesday and Wednesday, we offer couples and families that order products in our bakery a complimentary box of bagels
Have a message for us about our services or HR related questions? Caontact us now!